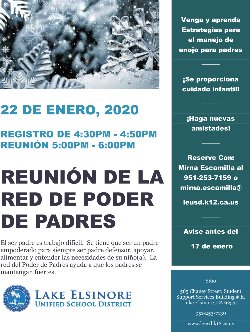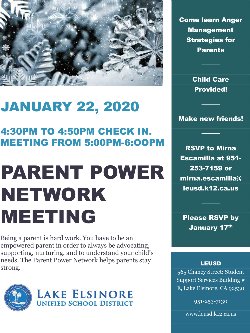 What

Parent Power Network Meeting, January 22, 2020

When

1/22/2020, 4:30 PM

–

6:00 PM

Where

565 Chaney St., Student Support Services, Bldg. "E," Lake Elsinore, CA 92530
AN OPEN INVITATION TO ALL PARENTS & GUARDIANS...

Being a parent is hard work. You have to be an empowered parent in order to always be advocating, supporting, nurturing, and to understand your child's needs. The Parent Power Network helps parents stay strong!
Our January 22, 2020 monthly meeting program will include:
"Anger Management Strategies for Parents," come get the tools for keeping calm while staying in charge, and deescalation techniques when emotions are running high!

School age child care provided
Check-in is from 4:30 p.m. to 4:50 p.m.; the meeting is from 5:00 p.m. - 6:00 p.m.