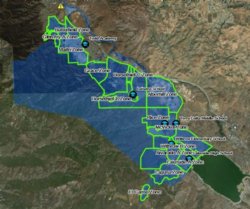 What

Community Meeting #3: Holy Flood Ready

When

11/5/2018, 6:00 PM

–

7:00 PM

Where

Terra Cotta Middle School Gym, 29291 Lake Street, Lake Elsinore, CA 92530
County of Riverside and City of Lake Elsinore Agencies and partners will discuss hazardous conditions and the safety steps everyone must take to prepare.
The Holy Fire left areas near hillsides at-risk for flooding, mud and debris flows. Debris flows are fast-moving landslides: mixtures of mud, rocks, boulders, trees, even homes or vehicles, that could happen at any time, with powerful and deadly force!
Attend the most convenient meeting for you! See flyer links for more information.

10-OCTOBER-2018, 6 PM, Trilogy Lodge, 24503 Trilogy Parkway, Temescal Valley, CA 92883
24-OCTOBER-2018, 6 PM, Luiseno School Gym, 13500 Mountain Road, Temescal Valley, CA 92883
5-NOVEMBER-2018, 6 PM, Terra Cotta Middle School Gym, 29291 Lake Street, Lake Elsinore, CA 92530