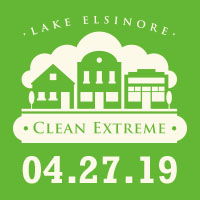 What

Community Volunteer Event: Clean Extreme 2019

When

4/27/2019, 7:00 AM

–

1:00 PM

Where

Swick & Matich Field, 420 West Limited Ave., Lake Elsinore CA 92530
This is a great opportunity for any LEUSD High School student to earn community service hours by volunteering on Saturday, April 27, 2019, 7 a.m. to 1:00 p.m., using the VOLUNTEER REGISTRATION AND STUDENT PARTICIPATION WAIVER at the link below.
Free T Shirt while they last!
Free BBQ lunch for all participants! serving starts at noon - 1:00 p.m.
Earn community service hours!