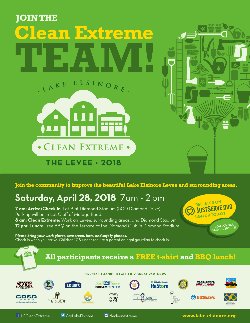 What

Clean Extreme! Earn Community Service Hours

When

4/28/2018, 7:00 AM

–

1:00 PM

Where

Check-in at Lot B, The Diamond Stadium, 500 Diamond Drive, Lake Elsinore.
Attention High School Students!
Looking for community service hours?

Students Can Earn Community Service Hours on Saturday, April 28th!

Student volunteers needed for Lake Elsinore's annual Clean Extreme beautification event. This year, volunteers will help beautify the Lake Elsinore Levee, adjacent to Diamond Stadium, in Lake Elsinore.


Check-in at 7:00 a.m. at Lot B of The Diamond Stadium.
Event includes a free lunch at The Diamond Stadium from noon until 1 p.m.
Bring your community service sheet to get signed off for hours earned!


Students 17 and under must have the parent/guardian release form signed with your application at check-in. Sign up and complete the release & indemnification form at the link below.